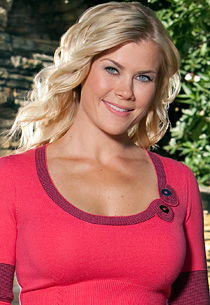 As ferocious bitch-on-wheels turned eternally conflicted heroine Samantha "Sami" Brady Hernandez on NBC's venerable soap opera Days of Our Lives — a job she accepted nearly two decades ago, when she was all of sixteen years of age — the astonishing Alison Sweeney has long since mastered the riveting rigors of daytime television, so it shouldn't surprise you to discover Sweeney taking by storm the world of prime-time television as well: she is the executive producer and star of a new reality series for TV Guide Channel (Hollywood Girls Night), and she is heading toward the climax of her tenth cycle as the host of NBC's evergreen competition series The Biggest Loser (which airs Tuesday nights at 8pm EDT). (And don't for a second think television is her only lane: Sweeney is also the best-selling author of a pair of books, including the recent self-help smash The Mommy Diet
, a cornucopia of food and fitness tips for expectant and new mothers.) Alison took a few minutes out of her insane schedule earlier in the week to stop by the Buzz to expound on her many jobs, as well as to discuss how she is rolling with the just-announced latest round of changes at Days.
BRANDON'S BUZZ: I suppose my first question would be: are you superwoman?! You're hot and heavy on Days of Our Lives, where you never stray far from the frontburner; you're all over prime time on Biggest Loser and the Hollywood Girls Night, and I even caught you on Celebrity Apprentice a few weeks ago judging a contest on behalf of Walgreens — to say nothing of kids and husband and your so-called "regular" life — so when exactly do you sleep, my dear?
ALISON SWEENEY: I'll be honest: that is certainly my weakness. I don't get a lot of sleep. But I love my life! I love all the exciting opportunities that come my way and making the most of it. It's always something different and fun — I'm very lucky.
I know it probably adds many more hours to your workday and stress to your life, but I have a sense that this stint hosting The Biggest Loser over the past few years has been a great blessing in your life—
I love being a part of it — I love the show, I love the way it transforms people's lives, I love fans who come up to me and say that the show inspired them to lose ten pounds, twenty pounds, a hundred pounds. You know, I meet those people everyday, I see them on Twitter — I actually just retweeted someone who lost weight and feels better about themselves because of information that I was helping provide, and I think that's so incredible. It makes me feel really special.
You've been very upfront about your own struggles with weight as you've matured in an industry that typically doesn't look very kindly on women that aren't a size zero — hosting this show and being in such close proximity to a wide cross-section of people who are mostly just embarking on the very same journey that you yourself have walked to great success, does that give you any new perspective on your own struggles, or on your own self-perception and self-image?
Yeah, I think it's helped — first of all, being part of The Biggest Loser has helped me keep my head on straight for my own health and wellness, and it has helped bring home for me that I don't work out for anybody else. I work out for me. I work out because it makes me a happier person, it makes me feel better about myself, and I miss it when I can't work out. You know, I just was in Mammoth last weekend — a ski resort near L.A. — with my son, and we were out snowboarding all day…. Just the physicality of interacting with my kids, and knowing I can run around with my son and play baseball or soccer or snowboard or whatever it is — that's why I do it, that's why I take care of my body and try to set a good example, so that my son and daughter will take care of themselves.
You know, I would also guess that most of these people — the Loser contestants — can't help but take inspiration from your story and your success, even if only in a subliminal or subconscious way.
Yes, sure. You know, I try to share my stories, or what my feelings are about how hard it is as a mom to leave my kids to go to the gym for an hour, and how you do feel selfish and you do feel guilty. I try to share that part of it, because I think that is very real, and other moms maybe will look at my example and see how it works for me, and maybe get a new [perspective].
I know what we see on television, but do you get a lot of behind-the-scenes interaction with the contestants?
You know, we spend a lot of time together while we're shooting, and in between takes and when the cameras aren't rolling, so yes, I do feel like I get a chance to get to know them better. It's such a joy to know that I really have made some friendships for life.
I would imagine that at least a few of these people are fans of your work on Days — have there been any funny occurrences along those lines, or of people on this show seeing you and expecting you to be very Sami-like?
Oh yeah, there have definitely been funny moments from people who watch Days and are expecting to see a little Sami, but you know, that makes it fun, too.
Talking about Days — hard as it may be to believe, you're sneaking up on your twentieth anniversary playing Samantha Brady—
I KNOW! Oh my gosh!
Does a chunk of time like that go by in a fingersnap?
[Laughs] It does! It really does, because I can still remember my first screen test. I still remember the first storyline I had on the show. And actually, people jokingly refer to me as the show historian because I have pretty good recall on the past, and it's funny — sometimes you'll stand in a certain set and remember something that happened — I was with Bryan Dattilo [the actor who portrays Lucas] just the other day and remembering a storyline we had a very long time ago involving a 1-900 phone psychic, and we were just howling remembering some of those crazy old storylines that we've been through over the years.
You know, I often think of someone like Susan Lucci — I wonder if she ever planned to play Erica Kane for forty years, or if it just worked out that way. Do you ever catch yourself sometimes going, Jesus, I've been coming here for twenty years!
That's a great question! I can't speak for anyone else, of course, but when I started this show, I had no idea that I would even work more than just the holidays! I sort of thought kids on the show were just trotted out at, you know, Easter and Christmas and Thanksgiving! And it just went from there to this crazy, busy, major storyline, and I've loved it ever since, and I've never wanted to leave, but no, I would NEVER have guessed that twenty years later, I would still be on this show.
You know, I have to ask you — and I don't want to put you on the spot and you can obviously say whatever you like — but how is the mood on the Days set? Word broke last week that the show is set for another round of major changes, so soon after last fall's much-vaunted reboot—
It's tough, you know? I think that — look, ultimately, I think we all understand that [Days] is a business, and that the show is trying to find an audience. We have awesome fans who have stuck with us through thick and thin, and I thank them and love them and appreciate them. But you know, the executives and the people who have to make these big decisions — they decided that there needed to be a change. And unfortunately, along with some behind-the-scenes people, some actors were part of that, too…. It's heartbreaking, because you get so close to people and you love them — you know, Christie Clark [Carrie] has played my sister since I started on the show, and whether she's on-camera or not, she's still my sister. It's sad to know that's the decision they're making, but the thing you learn in soaps is: you never say never.
I would imagine that as actors, in one sense you have to pay attention to all that stuff, because it affects your livelihood in a very real way, but on the other hand, I would guess you'll make yourself crazy if you dwell on it for too long — how has your cast figured out how to roll with the punches?
You're absolutely right, it's a balance, because for us, it is a job, and we're all trying to take care of our kids and support our families, so that's the first thing you think about. But we want the show to stay on, and we want the show to be popular. And so we all try to rally and think positive, and every time there's a new strategy of how we're going to go about it, whether it's [last fall's] reboot or whatever, we all get on board, because we all want it to work — from every prop person to every cameraman to the makeup department to the actors, it's like, "OK, let's follow this person, let's do what they think is gonna make [the show] work." We're on board; we're Team Days. And then, you know, the numbers are what they are, and people get different ideas, and it's just — you know, we're just the… what are those little ones on the chessboard? You know, we're the pawns.