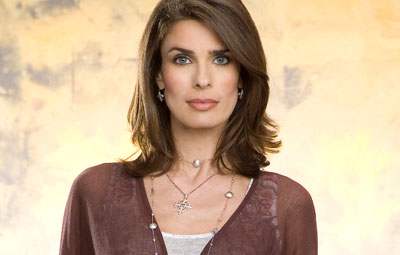 NBC's indomitable warship soap Days of Our Lives celebrated its 47th birthday last week (and will air its 12,000th episode come January), and for roughly thirty of those years — give or take a primetime furlough or two, during which time she reigned supreme on such smash shows as Falcon Crest and Melrose Place — the radiant, criminally gorgeous Kristian Alfonso has remained front and center as the show's primary distressed damsel, Hope Williams Brady. It seems fair to say that Hope's future has rarely been more in flux: Alfonso's longtime co-star Peter Reckell has just vacated Salem, bringing to an end — at least temporarily — one of the most storied romances in daytime history, and Alfonso now faces a frame of time breathing life into Fancy Face without her beloved Bo by her side. The Buzz had the great fortune of speaking with Alfonso by telephone a few weeks back, during which conversation we dug into all of the above, as well as her thoughts on the undying loyalty of Days' ardent fans and the current shaky state of daytime drama as a commercially viable genre of entertainment.
BRANDON'S BUZZ: Don't let me make you feel old here, but next year marks thirty years since your debut as Hope Williams Brady —
KRISTIAN ALFONSO: I think you're right! And you know what: I embrace every single year!
Could you have possibly fathomed that we'd be sitting here in 2012 still hopelessly enchanted by the magic of Bo and Hope?
No! No, and I am so thrilled that I am still on Days and that I get to walk through those doors every day. Seriously, it's a thrill, every single day, and I still get nervous. I still get butterflies! Peter [Reckell, Bo] teased me about that; he [would say], "Are you nervous today?" And I'm like, "I-I-I — I am! I feel the butterflies in my stomach!" And he just shook his head and rolled his eyes.