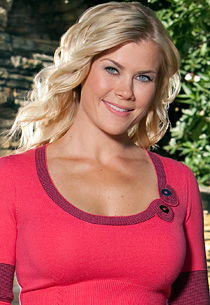 As ferocious bitch-on-wheels turned eternally conflicted heroine Samantha "Sami" Brady Hernandez on NBC's venerable soap opera Days of Our Lives — a job she accepted nearly two decades ago, when she was all of sixteen years of age — the astonishing Alison Sweeney has long since mastered the riveting rigors of daytime television, so it shouldn't surprise you to discover Sweeney taking by storm the world of prime-time television as well: she is the executive producer and star of a new reality series for TV Guide Channel (Hollywood Girls Night), and she is heading toward the climax of her tenth cycle as the host of NBC's evergreen competition series The Biggest Loser (which airs Tuesday nights at 8pm EDT). (And don't for a second think television is her only lane: Sweeney is also the best-selling author of a pair of books, including the recent self-help smash The Mommy Diet
, a cornucopia of food and fitness tips for expectant and new mothers.) Alison took a few minutes out of her insane schedule earlier in the week to stop by the Buzz to expound on her many jobs, as well as to discuss how she is rolling with the just-announced latest round of changes at Days.
BRANDON'S BUZZ: I suppose my first question would be: are you superwoman?! You're hot and heavy on Days of Our Lives, where you never stray far from the frontburner; you're all over prime time on Biggest Loser and the Hollywood Girls Night, and I even caught you on Celebrity Apprentice a few weeks ago judging a contest on behalf of Walgreens — to say nothing of kids and husband and your so-called "regular" life — so when exactly do you sleep, my dear?
ALISON SWEENEY: I'll be honest: that is certainly my weakness. I don't get a lot of sleep. But I love my life! I love all the exciting opportunities that come my way and making the most of it. It's always something different and fun — I'm very lucky.
I know it probably adds many more hours to your workday and stress to your life, but I have a sense that this stint hosting The Biggest Loser over the past few years has been a great blessing in your life—
I love being a part of it — I love the show, I love the way it transforms people's lives, I love fans who come up to me and say that the show inspired them to lose ten pounds, twenty pounds, a hundred pounds. You know, I meet those people everyday, I see them on Twitter — I actually just retweeted someone who lost weight and feels better about themselves because of information that I was helping provide, and I think that's so incredible. It makes me feel really special.