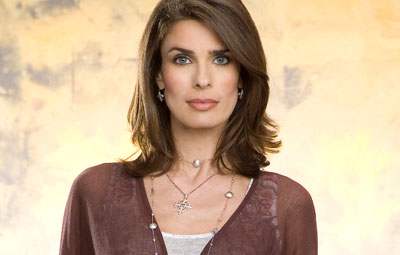 NBC's indomitable warship soap Days of Our Lives celebrated its 47th birthday last week (and will air its 12,000th episode come January), and for roughly thirty of those years — give or take a primetime furlough or two, during which time she reigned supreme on such smash shows as Falcon Crest and Melrose Place — the radiant, criminally gorgeous Kristian Alfonso has remained front and center as the show's primary distressed damsel, Hope Williams Brady. It seems fair to say that Hope's future has rarely been more in flux: Alfonso's longtime co-star Peter Reckell has just vacated Salem, bringing to an end — at least temporarily — one of the most storied romances in daytime history, and Alfonso now faces a frame of time breathing life into Fancy Face without her beloved Bo by her side. The Buzz had the great fortune of speaking with Alfonso by telephone a few weeks back, during which conversation we dug into all of the above, as well as her thoughts on the undying loyalty of Days' ardent fans and the current shaky state of daytime drama as a commercially viable genre of entertainment.
BRANDON'S BUZZ: Don't let me make you feel old here, but next year marks thirty years since your debut as Hope Williams Brady —
KRISTIAN ALFONSO: I think you're right! And you know what: I embrace every single year!
Could you have possibly fathomed that we'd be sitting here in 2012 still hopelessly enchanted by the magic of Bo and Hope?
No! No, and I am so thrilled that I am still on Days and that I get to walk through those doors every day. Seriously, it's a thrill, every single day, and I still get nervous. I still get butterflies! Peter [Reckell, Bo] teased me about that; he [would say], "Are you nervous today?" And I'm like, "I-I-I — I am! I feel the butterflies in my stomach!" And he just shook his head and rolled his eyes.
If you could go all the way back to that moment and tell that teenage girl who was about to embark, literally, on the ride of her life, what would you say to her?
Work hard. Stay focused and work hard, and be grateful that you have this opportunity. And don't lose sight of it.
I know the show has changed so much, just in terms of the way it's put together, between then and now. Obviously, Days is a great job, or else you wouldn't still be there all these decades later. How do you feel when you look across the daytime landscape and see that you guys are one of the precious few shows still left standing? Do you feel at all emboldened by that challenge?
I feel incredibly blessed that, every day, we are on the air, and that, every day, we get to do what we love. It is so unfortunate that these other shows have gone off the air; it's heartbreaking, because they are part of the daytime family — they are the daytime family — and I know so many fans were heartbroken by [the cancellations], and so were we. And if there is a God, let them please get picked back up again, because some of these shows had higher ratings than some primetime shows! And that's something I don't understand, you know. Daytime — they say "soaps" — but primetime: they're soaps, too! Every show! The reality shows, everything!
Talking about the daytime soaps — not only do they have higher ratings, often, but viewer loyalty — you certainly don't need me to tell you how fiercely loyal some of these viewers are, myself included!
I have to say: I have never, in any show or film that I have worked on. . . I take my hat off to the Days of Our Lives fans, they have stuck with us, and I am so grateful. And so is the show. We love what we do, and we want the fans to be happy, and we want to bring [to the air] what the fans want to see, and we want to surprise them. I have to say, I'm looking at three scripts in front of me right now, and I wish I could share it with you, but I can't!
Is it tough for you, because we hear that you guys tape so far ahead now — is it tough for you to get your mind wrapped around the fact that what you're filming is months ahead of what we're seeing?
Not at all. I mean, the thing that's a little crazy that panics me a little bit is that I look and I go, "Holy moly, these are the Christmas episodes." And I start thinking, "Oh my gosh, we've got Christmas coming up and I need to plan for that — what am I gonna do, and will I have time. . . ?" It's fun; I mean, we're wearing winter clothes — thank goodness we have great air conditioning, because we're wearing heavy sweaters and coats, and they're blowing air conditioning on us.
Talk to me a little bit about morale on the Days set. It's no secret that the show has gone through a bit of upheaval behind the scenes in recent years — is it difficult for you guys to shut all that noise out and just focus on the work?
I would say . . . there's a lot of discussion, but everyone's head is in the same place, and that is to make the best show we possibly can, and what can we do to make it even better? It never comes on set. We'll be in the hallways, we'll be in the dressing rooms, and we'll discuss, you know, and "What can we do?" and "How can we make it better?" But once we walk through those doors and onto the stages, we're all in the same boat. We have our captain, and we just give the best performances that we possibly can, and produce a show that is like our last show, always — the best we possibly can do.
Does the fact of Peter having just left the show give you pause at all about your own future with Days?
No, not at all. Of course, I'm sad to see that Pete has decided to leave. As I always say, "Never say never." Because he vacillated back and forth so many times — he's staying, he's leaving, he's staying — "Well, maybe I'll stay! I don't know, I'm not gonna stay! I'm gonna stay!" So, you never know. I re-signed my contract, and was thrilled to do so, thrilled to be asked to stay. He also was asked to stay, and he chose to leave.
Can you give us any kind of sense of Hope's future without Bo?
I would love to, but I won't have a job next week! [Laughs]
Shucks! So before I let you go, I have to tell you that there was not a bigger fan of Falcon Crest than me in the whole damn world, and it drives me batty when people mention that show these days and don't mention you, because you were a major player on that show in its closing seasons. You know, I suspect that was a bit of a tense set by the time you got there, but was Pilar Ortega a fun role for you? Was that a fun job?
Oh my gosh, she was soooo much fun! Are you kidding?! [The set] was a mile from my house! And to be able to work with Jane Wyman? I was starry-eyed! Such an amazing, amazing lady — I learned so much from her. And David Selby and Lorenzo Lamas and Susan Sullivan — so many wonderful actors. They were so patient with me and so welcoming. How lucky was I?
Damn lucky!