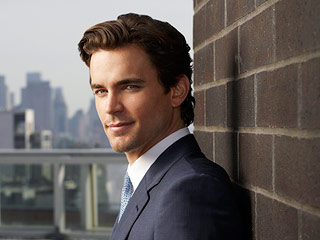 He first rose to national attention as cavalier rich kid Ben Reade on CBS' late, great soap opera Guiding Light, but the ridiculously talented Matt Bomer was clearly destined for bigger things, and wow, has he found them: featured roles on critically acclaimed (but sadly short-lived) series like Fox's Tru Calling and ABC's Traveler (not to mention a brief flirtation with a big-screen reboot of Superman, whose title role he very nearly nabbed) led to a recurring role on NBC's cult hit Chuck, which brought him to his starmaking role in USA's White Collar, where he has become a straight-up sensation portraying television's most charming con man, Neal Caffrey. Collar's second season comes to a close next Tuesday night (March 8, 10pm EST), and Bomer stopped by to give us an exclusive sneak peek, as well as to reminisce about coming of age in good ol' Springfield, USA.
BRANDON'S BUZZ: As long as I've been a fan of yours, I had no idea until I started reading up in preparation of speaking with you that you're a Texas kid just like myself. You grew up near Houston, yes?
MATT BOMER: Yes, in Spring, which is about forty-five minutes up
Interstate 45 from Houston.
You know, the life you're living now, the stardom, the success — could you have ever fathomed all of this when you were growing up in Spring, Texas?
No way. I mean, I always kind of had a big imagination, and I knew early on from seeing movies and TV shows that I was really drawn into that world, but no, I didn't ever think like that. I just kept going after what I was dreaming about, and doggedly pursuing it, and thankfully, I've gotten the chance to do some of the stuff that I'd hoped I'd get to do.