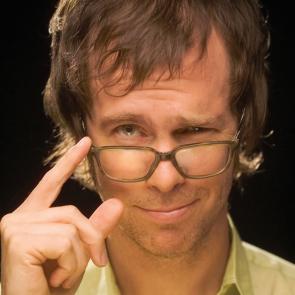 He (and the oddball pop band which bore his name) scored a surprise radio smash in the spring of 1998 with what is possibly the most depressing pop song ever find a mass audience, the devastating "Brick." But if you think that success is there all is to know about the Ben Folds story, think again: he has just released his latest album, a frisky and fascinating collaboration with novelist Nick Hornby entitled Lonely Avenue
, and he presides over the judging panel on NBC's hit music competition series The Sing-Off, which the network recently renewed for a third season set to premiere later this year. (A companion album
— featuring the best of season two's contestants performing freshly recorded a cappella takes on such hits as OneRepublic's "Apologize" and Mika's "Grace Kelly" — has also just arrived in stores.) I recently spoke with Folds about his participation in The Sing-Off, as well as how he has managed to keep himself and his brand consistently relevant in an industry that seems to be changing by the second.
BRANDON'S BUZZ: This thing, The Sing-Off — for those who haven't seen it, it's essentially a strictly a cappella take on American Idol, or something of a cross between Idol and Glee, and you're basically a judge-slash-mentor on this show. How did you get involved with this?
BEN FOLDS: Well, there were a lot of a cappella groups over the last ten years covering my music, my music being a big part of the repertoire of university a cappella groups. So I was hearing a lot of versions, and some of them I liked better than what we had done originally! I thought they were compelling versions and moving and engaging; they were getting it and they were musically intelligent. So I wanted to feature them on a record, and we made a record called University A Cappella
, which, essentially, I was recording these groups in their natural habitats, and we put it on record and gave the proceeds to music education charities. And then NBC rang, because they heard the record and knew of my interest [in a cappella music], and they asked me if I wanted to do the gig. And initially, I didn't want to.
So what changed your mind?
Well, I thought about it for a little bit before I came back and just knee-jerked and said no. I think when someone says, "Hey, you wanna be a judge on a music show," you say no! [Laughs.] But [Sing-Off] was different because — I began to think about it, going, "Well, these groups are gonna be singing live, a cappella on television." That's pretty — that's pretty brave! They're gonna have to be dead-on, and if they're not, they're gonna need good feedback. You know, they don't need someone cutting them down and making a circus out of it; what they need is someone to say, "Look, I'm pretty sure it would have been very moving had you not rushed and had the bassist been more articulate." So I just thought, "Wow, I can help — that's not so bad, let's do it."