Forever immortalized — at least, in my house — in a classic third-season "Designing Women" episode, in which Sugarbaker's gets hoodwinked into redecorating a nudist retreat (Mary Jo: "I guess, for starters, we can eliminate wicker bar stools!"), the Stuckey's pecan log roll has come to stand as an enduring mascot for the southern road trip.
A strange — and, if you stop to truly ponder the situation, deeply disturbing — mixture of maraschino cherries, powdered sugar, and white molasses fashioned into a foot-long cylindrical hunk, dipped in thick, gooey caramel, and rolled in only the finest crushed and chopped pecans (all the better to resemble a tree branch), this decadent delicacy — which, according to
the Stuckey's website, was developed by Mrs. Ethel Stuckey in her cramped kitchen, and her recipe continues to be used to this day — might just be the finest cure an acute onset of sweet-tooth-itis — and there's nothing like a road trip to incite a raging flare-up of same in my own mouth — ever demanded.
Having originated in Georgia some seventy years ago, the Stuckey's name isn't so common this far west; A and I stumbled across one in a little interstate town called Italy on a memorable trip to Dallas a few years back, and Sherry Ann and I stopped in a store east of Houston on our kick-ass vacation last summer. But whenever I see a store, I get positively giddy, because the mere name alone is a thrilling harbinger of imminent excitement.  So imagine the ecstasy when it was recently brought to my attention that three-quarters of an hour west of Amarillo, just beyond the tiny Panhandle town of Adrian along the bustling thoroughfare that is Interstate 40, lay a series of billboards advising drivers that they are but one hasty, impromptu exit away from Stuckey's and its inimitable down-home charms.
I love the store so much I paid it two visits on my recent pilgrimage home: once with A in tow, and once with Sherry Ann. Already on sensory overload simply on account of pulling into the parking lot, I literally had to wrench from the air a jagged chunk of oxygen and then purge it from my lungs in a long, rolling sigh before entering the building either time.  (What?  I'm easily excitable!)
If you've never patronized a Stuckey's store, it's like a fascinating, schizoid carnival for the mind — imagine, if you can, a Dollar Tree, a 7-Eleven, an old fashioned candy shoppe, and some flophouse diner, all crammed into one establishment that seems permanently lodged in 1957 — and it's quite  a trip, but the experience can initially be a bit jarring until you gain your bearings.  You should definitely start with the multiple aisles of tacky tchotchkes and knickknacks (my personal faves:  the pencil sharpeners which look just like old Commodore computers in miniature, and the salt and pepper shaker combo set in the shape of a woman's generously endowed chest) before making your way toward the sweets.  (Also, bear in mind:  if your stomach requires more substantial fare, one entire half of the store consists of a fully-functioning restaurant , with a menu full of mouth-watering treats, all of which are no doubt fried to a crisp, golden brown; as Mary Jo put it so eloquently in another classic "Designing Women" episode — the one in which Charlene dragged them all to Graceland on the tenth anniversary of Elvis' death — "Where else can you pull in, check your tires, buy some birth control in the bathroom, and have some turkey and dressin' on your way out?!")
After you've delayed your gratification as long as you possibly can without going utterly mad, it's at long last time to hit the candy section.  Assuming the log roll ain't your stick (no pun intended, maybe, but if that's the case, I can only say:  Live a little, babe!), you'll find all manner of divinity, fudge, saltwater taffy, and samplings from across the entire spectrum of nuts — all conveniently dipped in your choice of chocolate and vacuum-sealed in plastic — but I posit your taste buds will never forgive you if you don't surrender to the magnetic power of the pecan-swathed mass of nougat for which you pulled off the highway in the first place.  Sherry Ann and A both bought one (plus a diet soda apiece to wash it down with); I hauled a total of three of 'em out the door, along with a huge bottle of water and a couple of CDs which caught my eye on the way to the register (these roadside truck stops always have the damnedest cross-section of music sitting in their dusty spinning racks and begging for a little attention!).
Both times as we were leaving, ready to head back into the big city, I swear the tiniest bit of moisture welled up in my eyes.  Sure, it could have been the overwhelming scent of black pepper emanating from the restaurant half of the store — in which chicken fried steaks were being prepared with the keenest measure of care — but most probably, it was the bittersweet sense of loss I was already feeling.  Without question, I was leaving Stuckey's a substantially fuller, more enriched man than when I arrived (no foolin' there:  those pecan logs pack quite a blindsiding, heartwarming punch), but I was leaving nonetheless, and worse, leaving without knowing when I would pass that way again.  And like so many things to which we bid a fond farewell in this life, I had bartered a piece of my soul in exchange for that memory. And while memories are bound to morph and fade with the passing of time, the soul never ever forgets.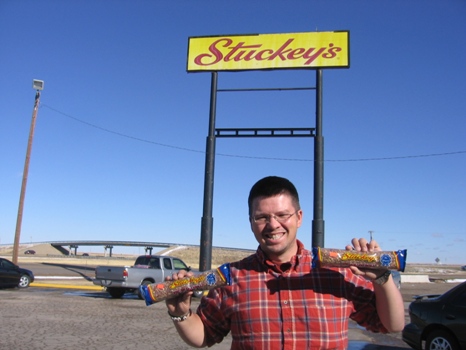 1 response to "y'know with love come strange currencies"
the buzz from A.:
January 4th, 2009 at 6:46 pm

Brandon urged me to comment on the Stuckey's experience, but after re-reading his account quite a number of times, I sadly have nothing to add except that it is all true. It is an experience (as is the pecan log itself)! So, should you find yourself in the vicinity of a Stuckey's, definitely check it out.

This post reminds me that Brandon and I will soon be heading to "the Land of LA" and then to "The Meadows," passing through the town of Baker which is (in some ways, at least) a city-size version of Stuckey's. Just check out the plethora of dining and shopping options this town of 600 offers. I am sure a full report will follow.