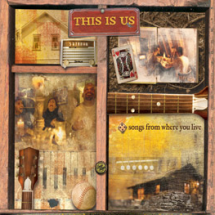 A and I walked into Starbucks yesterday in search of nothing more than a post-lunch slice of blueberry coffee cake.  Better believe I walked out of there brandishing significantly more than that.  While standing at the register waiting for the cute barista to serve up our sweets, I picked up and began to peruse the back cover of Hear Music's latest masterfully assembled compilation, This is Us:  Songs from Where You Live, and damn near fainted from the sheer gorgeous majesty emanating from the disc.
Promising in the description that this record portrays "the wistfulness that lingers when home is far over the horizon" — a tall task, that — you'll be demolished when you realize just how brilliantly (and with what kind of devastating surgical precision) it goes about accomplishing that exact goal:  Us starts out on a breathtaking high note, with Michael Penn and Aimee Mann's — very much our generation's John and Yoko, only criminally less famous — amazing 2002 cover of the Beatles' "Two of Us" (is it heresy to say that I quite prefer their version to the Fab Four's nondescript original?  As Sherry Ann will haply attest, I luvs me some Michael Penn, honey), and the tracklist really hits its stride in the disc's second quarter, with a bam-bam-bam-bam shot of Glen Hansard & Marketa Irglova (with the title track from their heart-wrenching, spectacular 2007 motion picture Once, which is already well on its way to becoming the music-centric film of its — and, perhaps, any other — time), Feist & The Constantines (teaming up on a radically downtempo take on the '80s classic "Islands in the Stream" which, even though it's not by half as much gloriously trashy fun as Barry Manilow and Reba McEntire's recent remake, is just plain revelatory for all the emotion it manages to unearth in simply mellowing the groove), my beloved Josh Ritter (helping out Mark Geary on a sensational song called "Ghosts"), and the terrific troubadouress Gillian Welch (the melancholy masterpiece "Orphan Girl").  I'm telling you, by the time you hit track number ten — She & Him's astonishing acoustic cover of Smokey Robinson's "You Really Got a Hold On Me," about which I've already waxed rhapsodic here — if you're not ready to rush to the phone and tell your mommy how much you love and miss her, you're a stronger man than I, guaran-damn-teed.  And it doesn't even stop there:  sterling recent efforts from Shelby Lynne ("I Only Want to Be With You," a highlight from her too-little-heard 2007 Dusty tribute Just a Little Lovin'), David Gray ("You're the World to Me," the radio single, which I initially found to be subpar but which has grown on me exponentially, from his Greatest Hits), and Mark Knopfler & Emmylou Harris (a track from their stellar collaboration All the Roadrunning which gives this collection its title), all light the way toward the record's shattering conclusion, wherein that long-lost genius Jennifer Warnes — who has been desperately missed, at least in my house — reteams with her mentor Leonard Cohen for a soul-cleansing reading of his all-time classic "Joan of Arc," an album climax so thoroughly worthy of the tumescent build-up that precedes it that you want to hit your stereo's repeat button and let this record engulf you anew with its aural magic.
The musical equivalent of Mom's mac and cheese, or her chicken soup, or her embrace that you've been craving in the six months since you last saw her, Us is a warm, comforting knockout, and a gentle but firm reminder that home is where you find it. Get thee to your nearest Starbucks immediately, and find it for yourself.