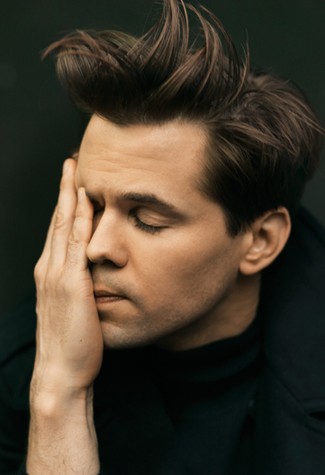 Four months in, who is making the unlikeliest splash of the television season? Look no further than the dashing Andrew Rannells. A Nebraska native who has already taken the New York theater scene by storm with starring roles in the Broadway hits Hairspray, Jersey Boys, and The Book of Mormon (which netted him a 2011 Tony Award nod), Rannells has made a stunningly seamless transition to the small screen this year, with a recurring role on HBO's buzz-magnet cultural phenom Girls (which has just returned for its second season, fresh off a surprise Golden Globe win for Best Comedy Series), and a star turn in NBC's dementedly sweet-natured smash sitcom The New Normal, which has been a key player in its network's ratings resurgence this season and which emerged as one of the precious few bright spots from a largely languid slate of fall debuts. I spoke with Rannells a few months back, just as Normal was getting off the ground, about the stresses of his transition to television, about working with a cast of bona-fide scene stealers, and about his desire to make his set's crew members chuckle whenever possible.
BRANDON'S BUZZ: So, you're kind of the man of the moment, sir!
ANDREW RANNELLS: Well, um… [laughs] I guess! I don't know; I'm having a lot of fun, I know that!
You know, every television season, the people who decide these things choose upon whom they're gonna bestow that elusive thing called "buzz" and, for whatever reason, you seem to have won that lottery this year. Is that a weird feeling?
It is a weird feeling. I've been plugging along as an actor in New York for a long time now, and it's certainly nice to get some extra recognition. But I still feel like — you know, I'm just doing my job.