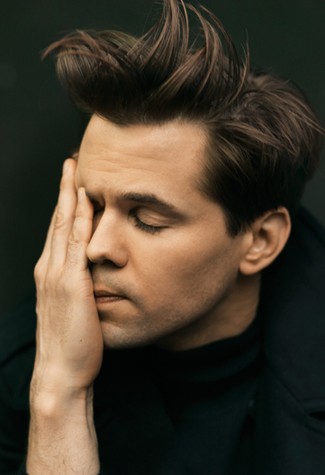 Four months in, who is making the unlikeliest splash of the television season? Look no further than the dashing Andrew Rannells. A Nebraska native who has already taken the New York theater scene by storm with starring roles in the Broadway hits Hairspray, Jersey Boys, and The Book of Mormon (which netted him a 2011 Tony Award nod), Rannells has made a stunningly seamless transition to the small screen this year, with a recurring role on HBO's buzz-magnet cultural phenom Girls (which has just returned for its second season, fresh off a surprise Golden Globe win for Best Comedy Series), and a star turn in NBC's dementedly sweet-natured smash sitcom The New Normal, which has been a key player in its network's ratings resurgence this season and which emerged as one of the precious few bright spots from a largely languid slate of fall debuts. I spoke with Rannells a few months back, just as Normal was getting off the ground, about the stresses of his transition to television, about working with a cast of bona-fide scene stealers, and about his desire to make his set's crew members chuckle whenever possible.
BRANDON'S BUZZ: So, you're kind of the man of the moment, sir!
ANDREW RANNELLS: Well, um… [laughs] I guess! I don't know; I'm having a lot of fun, I know that!
You know, every television season, the people who decide these things choose upon whom they're gonna bestow that elusive thing called "buzz" and, for whatever reason, you seem to have won that lottery this year. Is that a weird feeling?
It is a weird feeling. I've been plugging along as an actor in New York for a long time now, and it's certainly nice to get some extra recognition. But I still feel like — you know, I'm just doing my job.
You are clearly a theater guy — I mean, you've been the splash of Broadway and all that comes along with that, and now you've moved into television on such a hot property. It's a bit of culture shock, no?
It has. First of all, it involved a move — I had to move from New York to Los Angeles, which was hard. Hard to leave New York, but L.A. has been great. But yeah, you know, I'm used to coming from the theater — I mean, The Book of Mormon — the theater was just under 1100 seats, so every night, we were performing to a very limited number of people. So then to be on a television show where millions of people are watching, it's definitely a strange feeling.
I've had other actors who have been on so-called traditional sitcoms and have told me that it's basically the closest thing to live theater that exists in the television world, because it's essentially live-to-tape and there's the audience reacting to what you're doing on stage. But Normal is filmed more like a drama series would be, in terms of the fact that there's no audience. Has that been a tough adjustment for you, the idea of not having the instant feedback of the live audience?
Yeah, it's been a real adjustment. I got to be a part of Girls on HBO last year, and that was a good warm-up. That was the first television show I had ever been a part of, and that's also a single-camera show, so I kinda got used to the idea that you're not always going to hear laughter after every take. But it is still very much my goal to make those cameramen laugh! I try my hardest!
Years ago, I heard an interview with Whoopi Goldberg, and she came from your world — she was doing her one-woman show on Broadway before she jumped into movies, and I think it was Steven Spielberg who gave her the notion of getting used to the idea that the audience is there: inside that camera, inside that box, there are 50 million mutes just waiting for you to do something, but they are there.
That's a great way to think of it, because sometimes you forget that people are actually gonna watch the stuff that you're doing. I forget, "Oh, yeah, this is actually going to be on TV at some point!"
So for those who haven't checked out the show yet, give me the basic idea, give me the thrust of Normal's premise.
Justin Bartha and I play a couple that are at the point in their relationship where they would like to start a family, and we choose to do that through a surrogate, played by Georgia King. And the surrogate is in the process of starting her life over a little bit, so she brings her whole family along with her for this ride. She has a daughter, played by the adorable Bebe Wood —
— who steals every scene she's in!
Every scene, that girl! She is so much fun to work with, and I'm happy to say that we get to do a lot more together in the future; I love working with that kid. And then our surrogate also has a really bigoted grandmother played by Ellen Barkin, who is also super scene-stealy. She's hilarious.
You and Justin were instantly credible as a couple; even watching the first couple of minutes of the pilot, there was an instant sense of familiarity and believability between these two men.
Justin and I didn't know each other before working on this, but we definitely hit it off, and [series creators] Ryan Murphy and Ali Adler have created a really great world for us to live in, so it was very easy to slip into these characters and into that relationship. But Justin has been a lot of fun, and we have fun on set together.
You know, when I was growing up, it was Aaron Spelling — everyone said Aaron Spelling just somehow knew what his audience was going to love to watch. And you mention Ryan Murphy — I think whatever that gift is, he has it, he has that gene just imprinted on his DNA. This dude's just a beast, right?
Yeah, he definitely has his finger on the pulse of pop culture, and I think he sort of innately knows when things are going to be received well. And if you look at his shows — from Nip/Tuck to Glee to American Horror Story — they all have very different tones and different styles, and it's amazing to think that he has a young audience with Glee and a whole different audience with Horror, and hopefully we fall somewhere in the middle of that.
Enormous strides have been made, to be sure, but there are still so few gay characters on television, and it remains such a political minefield whenever someone steps up and tries to create a show like this. Do you feel any sort of special pressure to make sure this show works? I mean, do you feel like you're carrying some sort of torch here?
I'm happy — I mean, we've been on and it seems like we are finding our audience. There certainly feels like there is a responsibility to tell a very honest story about this gay couple, but first and foremost, we're trying to tell a funny story. This is very much a family comedy, a story about the love it takes to start a family, and I think that is sort of our jumping-off point: telling this story with a lot of love, and hopefully getting some laughs in there, too.
PHOTO CREDIT: Rodolfo Martinez, Style.com