It's a slow one this week out in America's record stores, with the only major release of note being the latest album
from Rick Springfield (!), should that do anything for you. My take on that situation is as follows: it's bad enough I have to sit through a double dose of that fop everyday on "General Hospital" (yep, they've got him playing two characters now!); I sure as shootin' don't have to support his latest attempt to reignite his non-starter of a music career. I've already got "Jessie's Girl" and "Love Somebody" on my iPod; that more than fulfills my duty to the crown, methinks.
So, this is a perfect week to catch up on some worthy recent releases that may have slipped past you. (You can't all be me, after all.) Herewith, a handy pocket guide: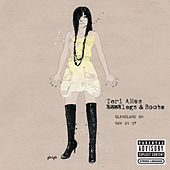 Following the phenomenal success of the official bootlegs from her 2005 tour in support of The Beekeeper, Tori Amos has just digitally released all 27 shows from last year's American Doll Posse jaunt. Available right now as an iTunes exclusive (and, beginning next week, available everywhere else), the series, entitled Legs and Boots, is pretty Posse-centric, a fact which anyone who wasn't a fan of that album (hi!) will find disheartening. However, as you scan the tracklists of each show, you'll no doubt find some pleasant surprises (like her surprising inclusion of the classic b-side "Beulah Land" from the Dallas concert, or the radically slowed-down take on "Etienne," one of Y Kant Tori Read's few highlights, from the Boston set). The audio is crystal clear, and serves as a vital reminder of Amos' masterful potency as a live performer.
Supposing you failed to pick up the "deluxe fan edition" that was released last week, the regular no-frills edition of Sugarland's latest, Love on the Inside, is out this week. I haven't reached a final verdict on the album itself — except to say that its entire first half is painfully disappointing, but that it picks up dramatically around track six or so — but if you're gonna spend the money anyway, you really should grab the expanded version, which offers as a bonus track a brilliant live cover of Matt Nathanson's latest single "Come On Get Higher," the chorus of which Jennifer Nettles wraps her fabulous, luscious voice around with breathtakingly natural hand-in-glove ease.
The spectacular debut album (one of the year's best, believe it) from my hands-down favorite new band OneRepublic has also just been given an expanded re-release (a practice I'm well on record for detesting, but I'm tolerating it in this particular instance, because I love these guys). Now bundled with a bonus disc containing live performances of their top ten smashes "Apologize" and "Stop and Stare," as well as their current single "Say (All I Need)" and select others, Dreaming Out Loud stands as a top-notch introduction for the terrific, talented Ryan Tedder, this band's majestic and magnetic leader. Timbaland adores the man, and so do I: how much more convincin' do you need?
A self-professed attempt to, at very least, win herself a Grammy nomination in one of the all-inclusive spoken word categories, the bitingly funny Kathy Griffin scorches all manner of earth in her first live album, For Your Consideration. Riffing on Britney Spears' endlessly entertaining antics, Marie Osmond's return to prominence, and being re-banned from "The View," Griffin takes no prisoners in a nakedly hilarious performance, which was recorded last February.
Separately, they are Deb Talan and Steve Tannen; together, they are mega-mellow husband-and-wife folk duo The Weepies, and their second major-label effort Hideaway is in stores now. Best known for their digital smash "World Spins Madly On" if not for their work on Mandy Moore's latest album Wild Hope, Talan and Tannen have actually included on Hideaway their own version of "All Good Things," one of the tunes they co-wrote with Moore last year for Hope. This certainly isn't party fodder — not for nothing are these two nicknamed "The Sleepies" in certain circles — but as this genre of music goes, you've certainly heard far worse.
One of this summer's most intriguing surprises is Breakout, Miley Cyrus' spunky debut disc. Even though I'm a casual "Hannah Montana" fan — true confession: I enjoy the Saturday morning rerun while I'm getting ready for work, and I'm wild about the show's opening theme, "The Best of Both Worlds" — I wasn't sure what to expect from this album. But whereas fellow teen queen Hilary Duff manages to stay fairly feminine and dainty no matter what she's singing about, Miley grunts and growls her way through some stunningly mature material. (Even more impressively, she shines throughout.) Highlights include the deeply melodic "Full Circle," and a cover of Cyndi Lauper's anthemic "Girls Just Wanna Have Fun" that is times more interesting than one could ever reasonably expect, but the album's strongest track is the wickedly strange "Fly On the Wall," on which Miley-as-sex-kitten ends up channeling — and convincingly, at that! — both Debbie Harry and Pat Benatar in an off-the-wall instant classic.
4 responses to "gettin' up at 8 a.m.'s crazy
(or: july 29 — a thumbnail sketch)"