It's a slow one this week out in America's record stores, with the only major release of note being the latest album
from Rick Springfield (!), should that do anything for you. My take on that situation is as follows: it's bad enough I have to sit through a double dose of that fop everyday on "General Hospital" (yep, they've got him playing two characters now!); I sure as shootin' don't have to support his latest attempt to reignite his non-starter of a music career. I've already got "Jessie's Girl" and "Love Somebody" on my iPod; that more than fulfills my duty to the crown, methinks.
So, this is a perfect week to catch up on some worthy recent releases that may have slipped past you. (You can't all be me, after all.) Herewith, a handy pocket guide: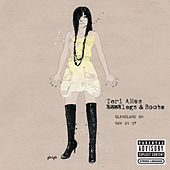 Following the phenomenal success of the official bootlegs from her 2005 tour in support of The Beekeeper, Tori Amos has just digitally released all 27 shows from last year's American Doll Posse jaunt. Available right now as an iTunes exclusive (and, beginning next week, available everywhere else), the series, entitled Legs and Boots, is pretty Posse-centric, a fact which anyone who wasn't a fan of that album (hi!) will find disheartening. However, as you scan the tracklists of each show, you'll no doubt find some pleasant surprises (like her surprising inclusion of the classic b-side "Beulah Land" from the Dallas concert, or the radically slowed-down take on "Etienne," one of Y Kant Tori Read's few highlights, from the Boston set). The audio is crystal clear, and serves as a vital reminder of Amos' masterful potency as a live performer.