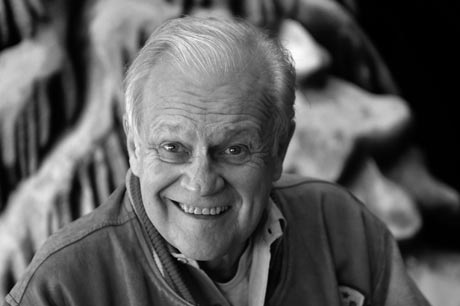 Not before — and scarcely since — has television created a pop culture phenomenon on the level of CBS' classic prime-time soap Dallas, which ruled Friday nights around the globe and, in many ways, epitomized and perfectly encapsulated the American ethos of the 1980s for much of its unprecedented thirteen-season run. (Indeed, at its delirious peak in the early part of the decade, some ninety million viewers sat glued to their television sets captivated by the scandalous exploits of the Ewing family and their friends and foes, and salivating over the ever-churning plot's next wickedly delicious twist.)
Only two cast members stayed aboard the Dallas express for the entirety of its run: Larry Hagman, whose dastardly, devilishly charming oilman J.R. Ewing would become an instant classic television character; and Ken Kercheval, who, as J.R.'s ever-embattled bitter rival Cliff Barnes, often gave the audience someone with whom they could relate amidst the larger-than-life backstabbing and brilliant chicanery. And as brought to life by two astoundingly fine actors, the fabulously frothy feud between J.R. and Cliff helped lure the audience back to Southfork week after torturous week.
After a two-decade hiatus, TNT has commissioned a ten-episode reboot — or, as Dallas principals prefer to call it, a "continuation" — of the classic series, which premiered last week to stellar ratings and uncommonly glowing critical notices. And though the updated Dallas now focuses primarily on the impossibly gorgeous (natch!) Ewing offspring, Kercheval — who returns as Cliff in episode three, airing this week — advised me when we spoke by telephone recently not to count out the so-called "old guard" quite yet.
BRANDON'S BUZZ: For the five people out there who never saw the original Dallas, or who have slept in the past twenty years, give us a quick primer on the hows and whys of Cliff Barnes.
KEN KERCHEVAL: He's a nice guy. He's a real nice guy, Cliff. People would say I was a bad guy, but I've always contended that if it weren't for J.R. and all of his devious ways, Cliff wouldn't have to — Cliff only defends himself as best he can. I just [never saw] Cliff as a bad guy. But then again, I don't know; with this new show, I'm not so sure I'll [still] be able to say that.
You know, I heard – I think it was Linda Gray — say that when she was back on set, it was only as if she had worked with everyone just six months ago or so — did you find that to be the case as well?
Oh yeah. Yep, it was almost like we had had a holiday, a Christmas vacation, and then came back to work. Seriously!