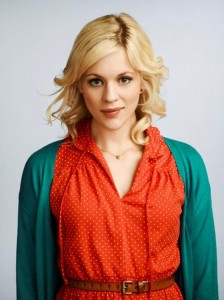 One of the rare creative high points in what has become yet another disappointing television season for NBC has been Ryan Murphy's charmingly deranged dramedy The New Normal, which, with its stories on love, civil rights, fairness within the evolving social fabric, and the ties that bind us together — hardly paint-by-numbers, laugh-a-minute sitcom fodder — has offered up a fresh new twist on typical prime-time family fare. Among the sterling standouts of Normal's instantly winning ensemble has been the lovely lass Georgia King, who was already a star in the United Kingdom long before she took these shores by storm in the role of Goldie, a naive young Midwestern woman who winds up carrying as a surrogate a baby for a pair of California men — one of whom is portrayed by Broadway veteran Andrew Rannells, with whom I spoke earlier this year — desperate for a child of their own. Normal ends its first season this very evening on NBC with a special hourlong finale episode which will presumably showcase the conclusion of the pregnancy in question; I spoke with King a few months back about her entree into American television, keeping a straight face in a cast of utter cut-ups, and how in blazes she manages to hide that Scottish accent so impeccably.
BRANDON'S BUZZ: Having watched every episode of your show, I didn't have the foggiest clue until I started reading up on you, in preparation of speaking with you, that you aren't even an American actress! You've done an utterly marvelous job of masking and losing altogether your Scottish brogue!
GEORGIA KING: [Laughs] I forget myself that I'm doing another accent [for the show], to be honest, and the shock on peoples' faces during Emmy weekend [last year] was enough to sort of jog my memory. I don't stay in character [on set] either, so I'm there going — [assumes full Scottish accent] — "Hellooo, cup of tea!" And then it's, "Action!" and we go straight for it.
I don't know what it is. My mum is an opera singer, and I'm thinking maybe — I don't know if that makes you, musically, quite good with hearing accents, or if I inherited some genetic [talent] from her. But I've certainly worked on it, and I certainly listen. I've spent a lot of time chatting with people from the Midwest just to double-check, and I definitely want to make sure I do a good job. But I'm focusing so much on the character's pain and struggle and excitement and joy, all these different things that Goldie goes through, and I focus on that so hard that I tend to forget that the accent, to a lot of people, is shocking.