The good news: Tori Amos, Mandy Moore, Eminem, and Sherry Ann's beloved Mat Kearney are all due with new music this month, and the debut season of that all-time television classic "Designing Women" finally arrives on DVD. The bad news: none of that happens this week. Once again, the pickins are pretty slim. But dig in:
Creatively, they have concocted some of the most satisfying rock music of the past fifteen years, but commercially, they've spent that very amount of time chasing, to varying degrees of success, the same kind of instant victory they achieved with their debut single, 1995's deliberately infectious smash "Good." And this week, one of the great underrated bands, New Orleans-based rockers Better Than Ezra, returns after a four year hiatus with their sixth full-length album, Paper Empire. Their last effort — 2005's terrific Before the Robots — spun out the surprise (and stunningly moving) radio hit "A Lifetime," and lead singer Kevin Griffin still owns one of the most spine-tingling voices going. My hopes are high.
Would anybody have guessed when these guys broke through in 1994 with their instant rock classic "When I Come Around" that Green Day would be able to transcend the same one-and-done rat trap that swallowed The Lemonheads, Alice in Chains, Blind Melon, and three dozen other similar bands whole? Would anybody have guessed, in the immediate wake of Kurt Cobain's devastating suicide, that the members of some seemingly nondescript pop-punk band would grow to become the most important and revered musical poets of their generation? This coming Friday, May 15, Billie Joe and the boys follow up their Grammy-winning 2005 masterpiece American Idiot with their sixth major-label release
21st Century Breakdown. The early reviews have been entirely rapturous, and there's no reason to believe this album won't be the monster commercial smash of the early summer.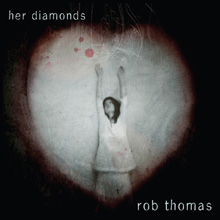 The week's marquee release is a Best Buy exclusive, but don't let that put you off, as it is my sincere hope that it will somehow re-energize (if not entirely reinvent) an obsolete relic from the music industry's glory days: the CD single. (As the proud owner of well over one thousand of same, I can't tell you how desperately I long for those days to return!) As a tantalizing way to tease his profoundly anticipated second solo album Cradlesong (due June 30), the magnificent Rob Thomas has partnered with the biggest box store on the block to kick it old school style: put a real live piece of product on the shelves, something you actually have to walk into the building, hand over actual cash money to an actual human being in order to acquire. (What a freakin' concept, yeah?!) The recipient of all this hoohah is Cradlesong's staggering leadoff track "Her Diamonds," and while it doesn't pack the immediate punch of "Lonely No More," the rambunctious smash that kicked off Thomas' brilliant first album, I predict you'll find "Diamonds," with all its riveting textures (the gospel choir! the African-inspired rhythms and harmonies!), ultimately more compelling. (And, as an added bonus, the single for "Diamonds" also contains a non-album b-side, the way it freakin' well used to be! Genius!) Robby, baby, I already adored you. But in the wake of this brilliant decision of yours, I'm ready to have your babies, sir.
Also noteworthy this week:
The second season of one of A's favorite sitcoms, Michael J. Fox's '90s chestnut Spin City, arrived on DVD a couple of weeks ago, and even though I promised to put a notice in the Buzz upon its official release,
I accidentally let it slip right past my attention. Forgive me, my love.