A number of this week's high-profile releases are dropping a day early to get a jump on the pre-Thanksgiving shopping frenzy, and though there are still a handful of A-listers in the pipeline — Miss Britney next week, and Fall Out Boy on December 16, most notably — what follows represents the meat and potatoes of '08's holiday slate of music. Eat up, kids.
His last American album — the unfairly ignored The Lead and How to Swing It, which featured a knockout guest appearance, done as a favor to her record label, by one Tori Amos — was released fourteen years ago, and while 1999's Reload was an overseas blockbuster, he's been off the radar for most of the last decade. But that all changes this week, as '60s icon Tom Jones, the man whose slick swagger practically invented the term "blue-eyed soul," returns with his much-hyped comeback effort, 24 Hours. Emboldened both by the back-to-basics return to form of Neil Diamond, and by the retro-soul explosion touched off by Amy Winehouse, Jones looks to find the sailing fairly smooth. All he's gotta do now is deliver a great album.
Anyone who knows me reasonably well knows I have a healthy appreciation for mindless trash. (My daily devotion to "Inside Edition" and my quarterly viewing of Romy and Michele's High School Reunion would amply confirm that, it seems.) But this is something else altogether: continuing the so-called "Decades Series" that he began nearly three years ago with the surprise smash collection of '50s covers, this week
Barry Manilow offers us his take on
The Greatest Songs of the Eighties, and don't for a second think that's false advertising: with a tracklist that includes Cyndi Lauper's "Time After Time," Wham!'s "Careless Whisper," Phil Collins' "Against All Odds," and Kenny and Dolly's "Islands in the Stream" (done here as a frisky duet with the always-game Reba McEntire, who classes this joint up immeasurably), these really are among that time frame's most enduring classics. To get through this in one piece, you're gonna have to forget entirely what you know and pretend that you've never heard this material before (good luck with that, really), and even then, you'll still wonder just what exactly he and Daddy Clive were thinking when they conceived this. (Just wait until you hear Barry's take on "(I've Had the) Time of My Life," curiously not done as a duet here — what, was Debbie Gibson booked or somethin'?) And you'll wonder what songs will land in ol' Barry's crosshairs when it comes time to tackle the '90s. "Waterfalls," maybe? "Two Princes"? "MMMBop"? "Tubthumping"?!
Yet another one of those compilations Disney is so enamored of assembling, so be thankful at least Box Office Hits has some undeniably dazzling material to work with here, even with the company focusing exclusively on its more recent hits: highlights include, from Cars, Sheryl Crow's rowdy "Real Gone" and James Taylor's bittersweet (and Oscar-nominated) "Our Town"; from Meet the Robinsons, Rob Thomas' magnificent "Little Wonders"; and a pair of knockouts from this past summer, Peter Gabriel's brilliantly kooky "Down to Earth" (from the otherwise overrated Wall-E) and Switchfoot's majestic "This is Home" (from Prince Caspian). If you let any of these tremendous tunes pass you by the first time around, here's a beautifully convenient way to play catch-up.
Valid, irrefutable proof (as if you needed more!) that Chris Martin is a blockheaded doofus who can't stay out of his own way long enough to create something truly great: this week finds Coldplay re-releasing its gorgeous album
Viva La Vida bundled with a new eight-song EP entitled Prospekt's March, which features a remix of "Lovers in Japan" and a new version of "Lost" with a guest vocal from Jay-Z. It also includes a second stab at Vida's finest hour, the stunning instrumental track "Life in Technicolor." Imaginatively titled "Life in Technicolor II," the song now features lyrics (!!) and Martin's nauseating drone sullying the dreamy, brilliant beat. It's an unthinkable travesty, which is precisely what we've come to expect from these guys. (Luckily, the EP is also available individually
, so there's no need to re-purchase the entire album just to acquire it.)
One of last year's most fascinating triumphs is reborn this week in an expanded two-disc set, as Feist's Grammy-nominated breakthrough album The Reminder gets updated with a full disc of remixes and videos in a new Deluxe Edition. Also included: a too-funny-to-believe cover of "Islands in the Stream" (again!) — on this record a mellow duet with the Constantines — and Van She's musical feng shui work on the smash "1234."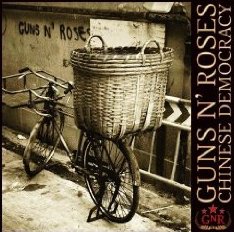 Not counting 1993's warmed-over b-sides collection The Spaghetti Incident, seventeen years have passed since Guns 'n Roses, one of the most revered and highly influential rock bands in music history, released their last original album, the sprawling two-volume Use Your Illusion. And after years of fights, rumors, and false starts, Axl Rose — still screaming, after all these years — and his new lineup of musicians are fine-null-lee back with the long-buzzed-about, longer-awaited Chinese Democracy. Following the lead of AC/DC, whose new exclusive pact with Wal-Mart has resulted in their hottest-selling album in three decades, Guns 'n Roses has teamed up with Best Buy to release Democracy, a move that has enraged the owners of more than a few media outlets, all of which were clamoring for these rights. Early reviews have been decidedly mixed, but that shouldn't make a lick of difference: Best Buy has scored the coup of the music year with this one, and there's no reason to believe this won't be a multi-platinum megasmash.
Despite its two, umm, killer radio smashes — the churning "When You Were Young" and the gorgeous "Read My Mind" — 2006's Sam's Town, the sophomore record from Las Vegas hipsters The Killers, was a violent letdown from the brazen brilliance of their terrific 2003 debut Hot Fuss. Lead singer Brandon Flowers and the boys attempt to reverse that trend this week with their third album, Day and Age. Judging from the incoherent lead single "Human" — which features a glorious melody chugging along beneath bizarro lyrics (even for them) — I'd say they've got quite a row to hoe.

Among countless other benefits — scarfing down a Hut's Hamburger, enjoying dinner on the roof of Whole Foods, and wearing shorts in December number chiefly among them — one of the brilliant perks of living in Austin, Texas is the annual Thanksgiving week rite of passage of driving down to Waterloo Records (hands down, the
city's best music store) and picking up a copy of KGSR Broadcasts, a two-disc collection of the titular radio station's most distinctive on-air performances from the year just passed. Because of its limited-edition pressing, the album always sells out quickly (and past editions can be found on eBay and Amazon for well over a hundred bucks); this year's Vol. 16 features tracks from Pete Yorn, Tift Merritt, Shelby Lynne, R.E.M., Cowboy Junkies, Glen Hansard and Marketa Irglova (the Oscar-winning heroes from Once), and thirty others. (For those of you unfortunate enough not to live here, the Buzz presents a handy link to Waterloo's online music store, whereupon you can buy this record and pretend you're just as cool as we are. And note: the set isn't released until Friday.)
Also noteworthy this week: